Welcome to SeaKist Services S.A., SeaKist Yacht Sales, and The Crow's Nest, located in beautiful Rio Dulce, Guatemala!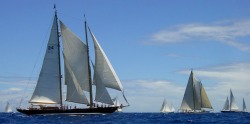 SeaKist Services S.A. has a wide range of yacht-related professional offerings for the Rio Dulce area. If unfamiliar, please explore the pages of this website, and forward any comments or questions via the convenient "Contact Us" page. Let our 30+ years of liveaboard experience and high quality standards work for you!

---
SeaKist Yacht Sales is our fast-growing yacht brokerage, offering a team of experienced brokers dedicated to professional service for the yacht buying and selling process! We actively promote the selling of our listed yachts through unbeatable advertising:
--YachtWorld.com: Click Here
--Rio Dulce Chisme website: Click Here
--REVUE Magazine, Rio Dulce section: Click Here
--Se Vende/For Sale signs aboard
--Flyers of our listings posted at four prominent area businesses
We promptly answer email inquiries about our listings, and can fully assist yacht buyers in every aspect of travel, lodging, and the purchase process.
The Crow's Nest is an INGUAT registered marina offering excellence in yacht storage for the owner that expects professional conduct and knowledgeable care for their yacht. Our personalized service offers our clients a variety of first-class options during their absence, providing a quality of storage care truly unmatched on the Rio Dulce!

About Us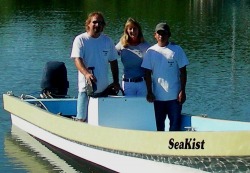 SeaKist Services is a team of three: Chris Stanley, Kelli Doll, and Carlos Caal.

Chris has been working on boats while sailing over twelve years, first up and down the US east coast, the next four years in the Eastern Caribbean, then over four years with Kelli on their new/old sailboat on the gulf coast and now the Western Caribbean. Chris' background is mechanical/electrical engineering, first with six years in the US Navy - over four years aboard ships, and then thirteen years in a co-gen utility - earning a Chief Engineer, Unlimited Horsepower license. Chris currently has a ham radio General license, and a HVAC Technician certification for refrigerants.

Kelli has been living on boats over twenty-one years, working in marine-related jobs and traveling up and down the US east coast and Bahamas before joining Chris on the gulf coast and now the Western Caribbean. Kelli earned a USCG 100-ton Masters license while captaining fishing/diving/snorkeling boats and a 97' dinner-cruise vessel, and has worked for years using her PADI Dive Instructor certification. Kelli has also owned and operated a successful marine canvas business in the Florida Keys (Mañana Canvas), and worked as Head Swim Instructor at the YMCA in Hollywood, Florida.

Carlos hasn't lived on a boat, doesn't want to either, but he does want to work on them and his experience shows in the quality of his painting and varnishing. Carlos was trained at a shop in Texan Bay over the course of years and on a wide variety of jobs - a background necessary for him to be a partner in SeaKist Services. Now, with further training by Chris and Kelli, and under the reputable and professional standard of SeaKist Services, Carlos is the guy you want to hire for hull cleaning, painting, and varnishing at Texan Bay! In his spare time, while demonstrating a strong interest in learning to do electrical work, Carlos has begun a course of study and an apprenticeship for experience.




---